[ad_1]
As we continue our celebration of 20 years of PekingeseWe take a closer look at some of the expats who have been here for two decades and those who have had a disproportionate impact during their stay.
---
There is something in the music that touched the point the most Djang san heart since he was a child. Feeling linked to the deep feelings that only music could bring him, he knew from an early age that he was going to pursue it professionally. But it was not until the age of 16 or 17 that he finally began his musical career.
Once his passion for music ignited, San was eager to begin the journey to pursue his dreams. He started a band in high school and around the same time he became obsessed with strumming the sweet chords of guitars.
Originally from France, Djang San spent his early years in Peru, and that's how he was exposed to South American culture. At 6, he returned to Bordeaux, in the south-west of France, with his family. The resulting clash of different cultures had a profound impact on his music and his way of seeing the world.
At 20, Djang San came to Beijing for the first time and became the first musician to revolutionize the use of the ruan, a traditional Chinese instrument, in rock and electro concerts. Looking back, he never imagined living in Beijing for over 20 years, so when I had the chance to interview him, I was very keen to find out what made Beijing a guardian for him.
What brought you to Beijing, and when did you arrive?
When I was 20, I went to Beijing for the first time, and from 2000 to 2006, I traveled between France and Beijing. But I spent most of my time living in Beijing.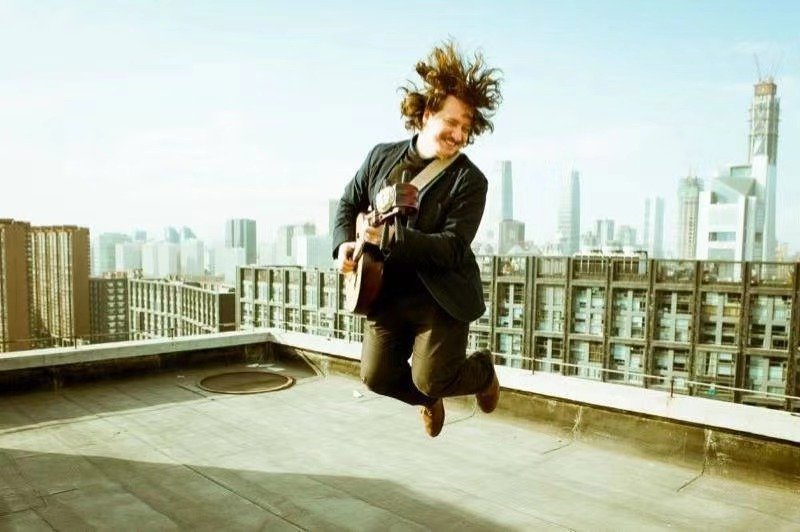 What were your first impressions of the city?
When I arrived I didn't know what to expect. But very quickly, I was drawn to rock and roll and the Beijing music scene. I spent my nights at the River Bar, Get Lucky Bar, and other places where I would find local music.
How has the independent music scene changed in Beijing over the past 20 years?
Many. When I first arrived here, the only festival in Beijing was the Festival du Midi. I went there in 2001 and saw Brain Failure and a few other bands there. At that time, the festival was still held at the Ecole du Midi. In the years that followed, festivals began to develop around Beijing and across the country. It was a very exciting time. I also went to a rave party on the Great Wall in the summer of 2000! There was so much creativity and the bar and live house scenes were developing rapidly, with new places like Yugongyishan, 2Kolegas, White Rabbit, River Bar and Get Lucky Bar providing spaces for many bands to explore the sounds and develop ideas. Many places opened from 2000 to 2011, such as Temple, Star Live, WumingGaodi, Jiangjinjiu, What Bar, D22, Modernista, MAO Livehouse, China Doll… Musicians could easily play every night anywhere in the city. Sadly, most of these places are gone now and only a few have survived. There are more festivals now than there used to be across the country, however.
Can you name your three favorite places in the city (other than your home)? These can be restaurants, parks, cafes, tourist attractions, neighborhoods, experiences, etc.
Modernista, Soi Baochao and the courtyard of the BBB.
Can you describe one of your most amazing concert experiences?
There was a lot. Surely some of the best were at the old MAO Livehouse on Guloudongdajie for the Fête de la Musique Festival, and of course at Temple Bar, where I have a lot of great musical memories. I have also performed a few times on the Great Wall and at the Midi Festival and the Strawberry Festival. It's always a lot of fun.
Did you imagine at the time that you would still be here more than 20 years later?
Not at all!
How has Beijing changed you?
Well, I spent 20 years in Beijing, and I actually spend more time outside of France than in France now. It definitely changed my perception of the world and other countries through all the different personalities and nationalities that I have met in the city. Beijing is also where I really became a musician.
Why does Beijing continue to attract you to this day?
Beijing was a completely different city when I arrived. The city was not as big as it is today. There were only four rings. In fact, the Fourth Ring wasn't even finished yet. The city was half its size. Everything was under construction and the CBD was not finished either. I really like the feeling of being in a place where there is something happening every day.
Read:20 for 20: American artist Michael Cherney
Image: Courtesy of Djang San
[ad_2]