After a two-year absence, one of the world's most influential entertainment event companies is back with its most significant proposition. This time, elrow will inaugurate its elrow city in Madrid.
At April 15, the iconic event will return, transforming the crazy cool Madrid pitches in the largest Elrow universe. Dedicated to the emotions that inhabit the crowd, this first edition of Elrow Town will welcome over 25,000 people to come together, celebrate life together, dance and have a blast with over five different stages, themes, incredible sets and multiple performance numbers.
Back to its roots in the culture of quality dance music – Elrow is ready to announce the artists involved. Headlining this trip, the unique international talent of Paul Kalkbrenner, Battery code chief Adam Beyer, hot creations captain Jamie Jonesdanish globetrotting dj cologneSwiss artist and favorite of Ibiza Andrea Oliva alongside Australia's new generation of superstars, Sinnerwill all go through the grounds of Mad Cool with its usual crazy antics and uplifting beats.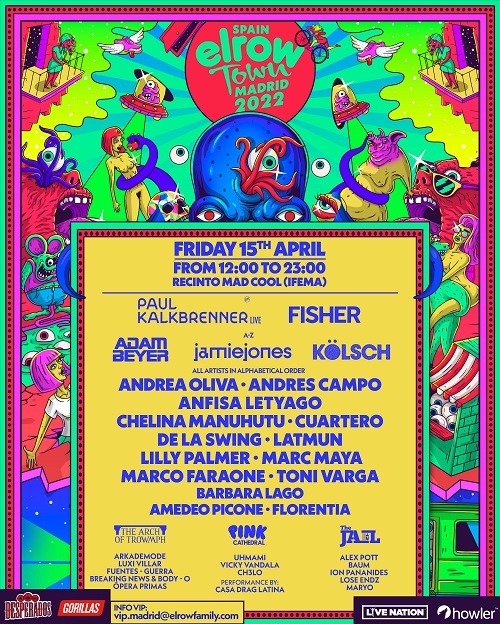 Andres campo , Anfitsa Letyago, Chelina Manuhutu, Cuartero, De La Swing, Latmun, Lilly Palmer, Marc Maya, Marco Faraone, Toni Varga, Barbara Lago, Amadeo Picone and Florentia complete the complete list of artists.
Elrow designed the perfect, complete pack to make you feel thrilled and part of this tribe. A tradition in which theatre, music and performance are the keys to the celebration. Get ready to step into another dimension in a new 11-hour non-stop festival edition. In Elrow Town territory, reality becomes fantasy and dreams become reality!
Tickets available HERE!