For the first time in elrow's history, one of the most legendary figures to ever grace elrow's decks, Fatboy Slim will headline elrow Barcelona on February 27th with a truly Carnival show electrifying.
With three decades of DJ excellence under its belt, Norman cook helped bring dance music to the masses with his formidable arsenal of feel-good house that helped shape the face of club culture as we know it today. However, he brings more than the melodies.
Wow the crowds at Viladecans with a 3h terrace set is an infamous entertainer Ilario Alicante. On the Elrow City Room long time Elrow favorite Archie Hamilton will showcase his sounds with another 3 hour set while receiving support from a hot UK-based DJ and producer Ben Sterling. The Philippines the scene will be headlined by the highly publicized Free.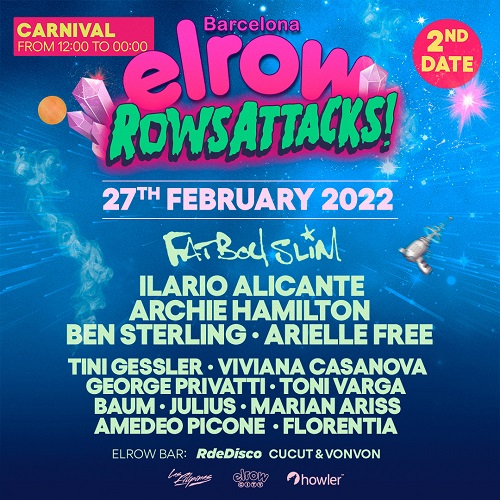 Complimenting the chaos will be a crowd of Elrow former including Tini Gessler, Viviana Casanova, George Privatti, Toni Varga, Baum, Julius, Marian Ariss, Amadeo Picone and Florentia.
Get ready to enter another dimension in a new edition of the non-stop 12-hour festival. In rowsattack territory, reality becomes fantasy and dreams become reality. Put on your best costumes and enjoy one of the craziest evenings in Elrow without limits.
Watch the video below!