The hardworking organizers behind Neversea and UNTOLD have just announced the full lineup for Europe's biggest beach festival. There are only 2 weeks left until the long-awaited 4th edition of the Neversea Festival which brings together more than 150 world-renowned artists from more than 20 countries in Romania.
There are 14 days left until the biggest beach festival in Europe, neversea festival. The organizers announce the complete line-up for all stages and more than 150 artists from Europe, the United States, South America and Egypt will play this summer on the island of dreams of the July 7-10. Thousands of festival-goers will live the most beautiful story of the Black Sea, with memorable sunrises and sunsets on the beach, with artists and DJs from all over the world, bringing to Romania different styles of music, genres and cultures.
The rap phenomenon Tyga is headlining this summer the 4th edition of neversea festival and prepares a crazy first show on the Mainstage. Another headliner is the Spanish DJ and producer Danny Avila who returns in full force to the Island of Dreams. The best Romanian artists and DJs will also play on the main stage.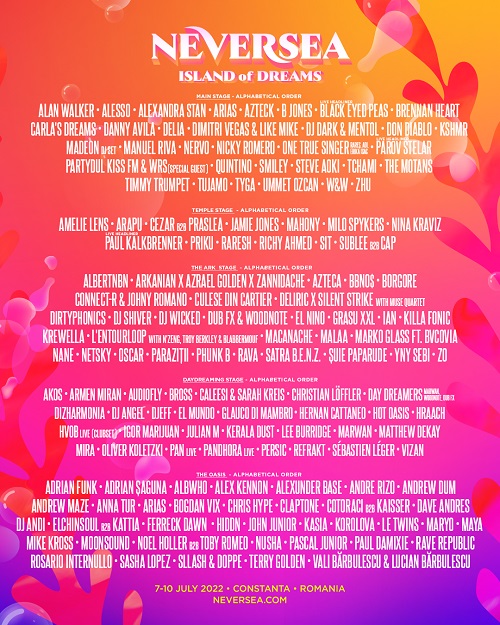 The program for the day will be announced shortly. Until then, here is the complete list of artists (Romanian and international) for the majestic main stage: Alan Walker, Alesso, Alexandra Stan, Arias, Azteck, B Jones, Black Eyed Peas, Brennan Heart, Carla's Dreams, Danny Avila, Delia, Dimitri Vegas & Like Mike, DJ Dark & ​​Mentol, Don Diablo, KSHMR, Madeon DJ Set, Manuel Riva, NERVO, Nicky Romero, One True Singer (Rareș, Adi, Erika Isac), Parov Stelar, Partydul Kiss FM & WRS (Special guest)Quintino, Smiley, Steve Aoki, Tchami, The Motans, Timmy Trumpet, Tujamo, Tyga, Ummet Ozcan, W&W and ZHU.
Tyga is one of the most followed and listened to artists in the world. At 32, the American artist has millions of followers on his social networks and hundreds of millions of streams on his streaming platforms. Placed in the top 10 of the world charts and nominated for the Grammy Awards, Tyga sold millions of records. At the MTV Music Awards, he was nominated for Best US Act, Favorite Rap/Hip-Hop Artist, World's Best Male Artist and World's Best Entertainer of the Year.
His single To taste is one of his most successful songs. After the big release, it climbed straight to #8 on the Billboard Hot 100, being her first Top 40 song after Ayo (2015), for which he worked with Chris Brown. In 2019, he released the single Ayy Macarenawhich quickly became a hit and garnered hundreds of millions of views and streams online and on radio stations around the world.
In 2022, Tyga work with Doja Cat and released the single Weird Deaky. The song has gotten over 100 million views and streams online in less than three months since its release. This summer, fans will enjoy Tyga live at the Neversea Festival, in Constanța, Romania.
Each stage at Neversea Festival has its own concept and musical genres, from techno, house, deep house and tech house to chill, ambiental, tribal, rap, trap, hip-hop, trip-hop, dubstep, drum & bass , and liquid.
The temple stadium is the birthplace of techno and tech-house music, and this year Paul Kalkbrenner and Amelie Lens are performing for the very first time in Constanta, Romania. The Temple's full lineup includes Arapu, Cezar B2B Praslea, Jamie Jones, Mahony, Milo Spykers, Nina Kraviz, Priku, Raresh, Richy Ahmed, Assisand Sublee B2B Cap.
The Ark Stadium is perfect for rap, trap, hip-hop, dubstep, drums and bass and liquid music. Canadian rapper bbno$ will perform for the first time this summer at neversea festival. Borgore, Dirtyphonics, Dub FX & Woodnote, Krewella, L'Entourloop with N'Zeng, Troy Berkley & Blabbermouf, and Netsky will bring their madness to The Ark Stage. Famous Romanian artists and DJs will also play on the Ark stage.
The reverie stadium is the ideal place to admire the perfect sunrise and enjoy the sea before your eyes, your body and your soul. Here fans can listen Audiofly, Christian Loffler, Day Dreamers (Marwan, Dub FX & Woodnote), HVOB, Hernan Cattaneo, Hot Oasis, Kerala Dust, Lee Burridge, Marwan, Oliver Koletzki, Sebastian Leger and other great artists of house, ambiental and chill music.
The Oasis Scene is the most fantastic escape for lovers of tech house and deep house music. Anna Tur, Claptone, Kasia, Korolova, Les Twins, Ferreck Dawn, Noel Holler B2B Toby Romeo will take fans on unique musical journeys. The complete lineup of the Oasis stage and all other stages is available here.
Special music spots and interactive activities will be available throughout Neversea Festival for 4 days and 4 nights. Fans will also find fashion, makeup, hair and tattoo corners ready to make their perfect outfits for the festival. Fifty vendors will bring their juicy tastes and serve a variety of dishes such as pizza, pasta, burgers, noodles, sushi, Mexican or Colombian dishes, seafood, hummus, hot dogs, kebab, sandwiches and vegan dishes. Sweets will come from pancakes, waffles and ice cream.
The 4th edition of neversea festival takes place on July 7-10 in the coastal city of Constanta, Romania. Fans can find more details and pass on the link.