GOSHEN, NY – Given the average Lego fan's passion for building, building a theme park and hotel for Lego fans is no easy task.
But as the parent of a Lego fan within Legoland's target demographic of 2-12 year olds, it seems Legoland New York Resort has risen to the challenge.
My family and I were fortunate enough to visit the theme park and its adjacent Legoland Hotel in early April, when the attraction – Merlin Entertainments third and largest Legoland theme park in the United States – reopened for its first full season.
A castle-themed play area in the lobby of the Legoland Hotel. Photo credit: Christina Jelski
Although the park made its official debut last summer, with seven themed lands on 150 hilly acres, it's already in expansion mode, with several new additions – including a water play area and two additional entertainment stages – in preparation for later this year.
While Legoland's resorts in California and Florida both offer hotel commissions to travel advisors, Legoland New York Resort's website states that it is currently "unable to offer commissions to travel agents on hotel reservations". A park spokesperson, however, said the resort and hotel work with corporate clients, including some OTAs and bed banks, but did not say whether its commission policy extends to travel advisors.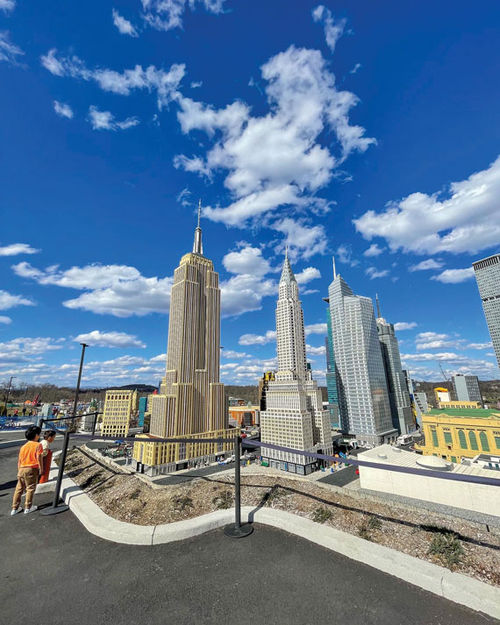 Replicas of several Manhattan buildings in Miniland at Legoland New York Resort. Photo credit: Christina Jelski
For many, the Legoland New York Hotel will be a major draw in its own right. In fact, the 250-room property ended up being a highlight during our visit, thanks to its thoughtful room layout and plenty of kid-friendly amenities.
The hotel's digital check-in system was also efficient and easy to use. I was able to check in online several days early and on the day of our arrival I received an email update as soon as the room was ready.
Upon entering the lobby, which is outfitted with colorful Lego models and a wall display of mini-figures, we were greeted by a kiosk with several digital key printing stations. A hotel employee is stationed at the kiosk to help or make requests for items like a portable playpen.
The lobby's biggest highlight is its centralized play area, offering a large castle-themed jungle gym and a waterslide with several shallow pits filled with Lego bricks. A well-appointed bar sits next to the play area – a funky design that gives weary parents a perfect place to grab a drink while keeping an eye on their kids.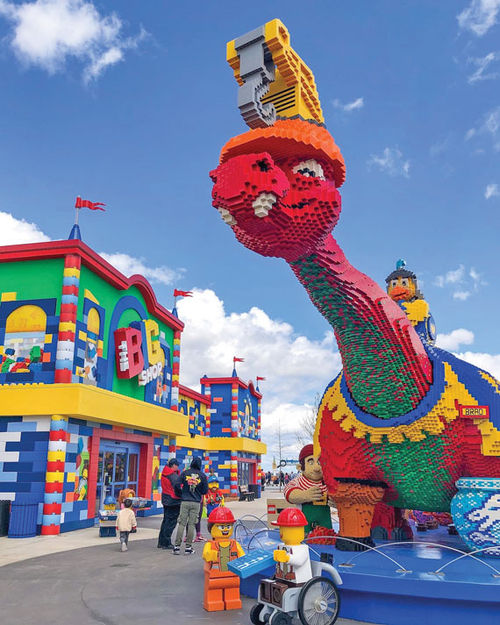 Giant Lego models at Legoland New York Resort. Photo credit: Christina Jelski
Beyond the lobby, the sense of play extends to the hotel's elevators, where music and a disco ball turn every ride into an impromptu dance party, and to the rooms, which feature even more Lego designs and themes. .
The walls of our premium Ninjago room, for example, were adorned from top to bottom with Lego themed imagery of the franchise's ninjas as well as several Lego models, including a giant scorpion and a pair of throwing stars. Near the door was a locked "treasure chest" box, which could be unlocked after solving a "treasure hunt" puzzle in the chamber and obtaining a four-digit code.
The bedroom was focused not only on pleasure, but also on functionality. A separate sleeping area for children, including both a bunk bed and a trundle bed, means that standard rooms can comfortably accommodate families or groups of up to five people, and premium rooms can sleep up to seven people. The children's area also has its own television as well as a reserve of Lego bricks, allowing children to continue their creative constructions until bedtime.
Among the biggest pluses, however, is the hotel's proximity to the park. After a buffet breakfast at its Bricks Family restaurant, we were among the first to enter the attraction, which meant about a good hour of minimal lines for many rides.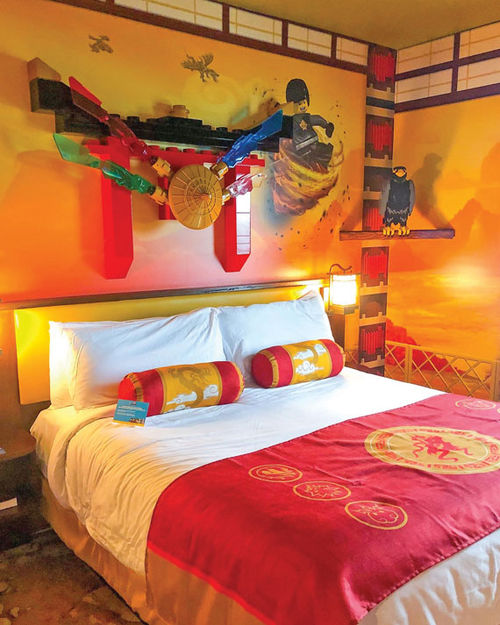 A premium Ninjago room. Photo credit: Christina Jelski
Although most of the rides at Legoland New York are aimed at younger kids, the park still has plenty to appeal to those well past childhood. The creativity and craftsmanship on display is impressive, from the life-size Lego minifigure napping on a bench to the not-so-miniature replicas of New York, Washington, San Francisco and other cities in Miniland.
Even those who don't consider themselves Lego fans can find themselves completely converted after a visit to Legoland New York.