Fresh out of a sold-out event in Los Angeles, techno temptress Nicole Moudaber is about to bring her world-famous party brand to the Avant Gardner in New York City for a groundbreaking edition of "In The Mood. ". Taking place on November 12 in the Great Hall, "In The Mood New York" will combine fashion and art with sensational interactive visual content, and of course a selection of top tech talent.
For the first time in five years, the techno titan Chris Liebing will join Nicole for a rare b2b set, with an Italian pioneer Luigi Madonna also planned to play at night. A name that doesn't need to be introduced, Skin of Skunk Anansie will be back with Nicole for their first performance in NYC together since their outfit MoodRAW warehouse party. The acclaimed singer, fashion icon, DJ, activist and 'Elevate'EP collaborator is the perfect complement to help Moudaber take the latest edition of 'In the mood'to new heights.
Already presiding over one of the world's most iconic party empires, Nicole is ready to raise the bar by unveiling a whole new immersive experience like she's never done before. Always looking to move forward and evolve, Nicole enlisted a conceptual fashion designer Designs by Gelareh and pioneers of the experience Volvox Laboratories NYC to deliver a night of rich visuals that will perfectly complement Moudaber's raw and emotional techno.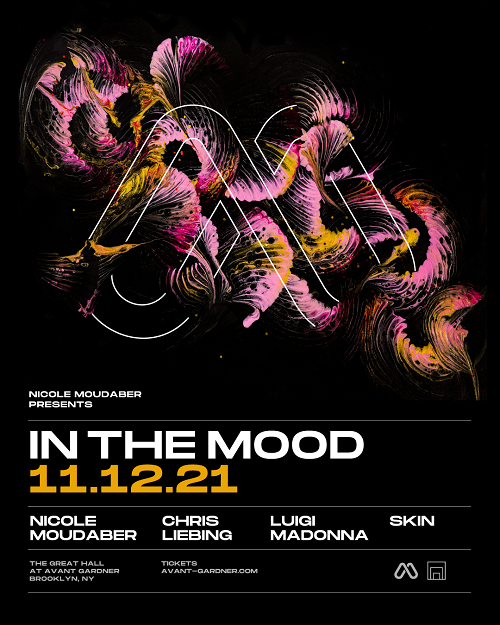 Speaking of the concept, Nicole noted:
"This next show is going to be a very special moment for me. I am so excited to be working with the fierce Gelareh Designs. Gia's designs are inspiring and iconic, and with the phenomenal minds of Volvox, we're going to take you to another dimension in November! I am eternally grateful that I can work with such incredible talent and look forward to unleashing our visions with the world. "
The industrial context of the event at Williamsburg East, will undoubtedly blend into the visual and sound experience Nicole has planned. Being an epicenter of entertainment in New York, Avant-Gardner, which occupies an entire block, is the perfect venue for the biggest edition of In The Mood and what promises to Moudaberis the most memorable to date.