It's been almost two years since Sister System and her friends graced Miami with off the beaten track venues, loud electronic music, and draped teddy bear designs. But the wait ends Friday, September 24, when the DJ continues her unnamed party series, this time in collaboration with electronic labels. Omnidisk, Schematic, and Allergy season.
"I thought it was just appropriate to do a showcase to jumpstart our upcoming projects and get back in the business and shine a light on the key people who are making the ball move here culturally and soundly," Sister said. System (AKA Alexis Sosa-Toro). New times.
Sosa-Toro's party series was boosted five years ago with Droogfest, a gathering in the middle of the Everglades. Since then, she's created over a dozen parties, including the Boiler-Room sponsored Black Friday Rave, One Final Rave 229, and the latest ODD series. The evenings are a tribute to the rave days of the old school: atheists in their purest form, sound and temporal fast.
No party is a one-size-fits-all; instead, each brings a I do not know what it is difficult to reproduce.
"I don't operate under a party name because I want each party to represent something different and really showcase the artists," says Sosa-Toro.
During the two-year hiatus, Sosa-Toro continued his work behind the scenes for Club Space and III Points. New projects have emerged, such as a partnership with the Omnidisc label of DJ / producer Danny Daze as well as a residency at Club Space, which earned him the title of "Best DJ" in New times' Best of Miami 2021.





Superlatives aside, the two-year time frame reflected what could be the biggest party yet. Entrants will have access to three different stages highlighting three distinct labels, two of which have deep Miami lineage. One is the Omnidisc scene, led by Miami DJ / producer turned global headliner Danny Daze. There are also stages for pioneering old-school label Schematic and New York label Allergy Season.
So where is this party going? Uncertain. The location of the warehouse will be announced this week. What is known is that the lineup of 16 artists will offer a bazaar of techno, electro, jungle, dub, IDM and ambient. The atmosphere promises to send participants back in time while progressing culturally.
"I think about how people are going to move in space and be in different places at different times," says Sosa-Toro. "I start with the music, then the artists, then the set times, and then where people will land all night long. I think we've done it."

Top of the bill includes Danny Daze, Physical Therapy, CCL and Pilo, all of whom will transcend and captivate during the nine-hour event.

"What I really connected with was a sense of community and belonging, creating a safe space with friends and artists that you connect with," Pilo said of the event in a communicated.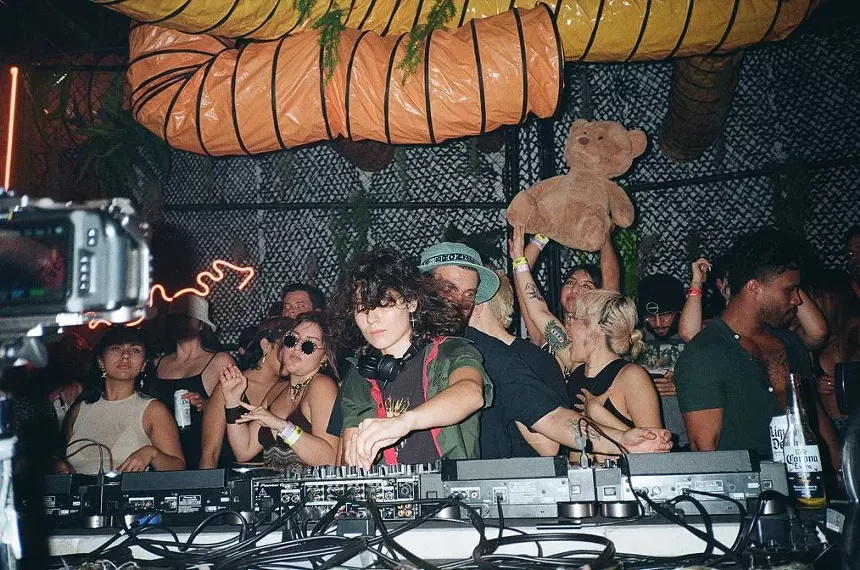 But the party would lack a local connection without Miami's talent. Also on the invoice are Bort, Coffin texts, Daisy cutter, Goiz, Jonny From Space, Nick León, Pressure Point, Romulo, Souls Departed, Viscrit and Sister System itself.
"I also choose people based on the story they tell, people who have devoted 365 days to producing music," adds Sosa-Toro. "I don't really want to recruit international talent. Most of the raves are meant to show what's going on here in Miami."
Sosa-Toro says the party will feature two dancers, a live paint / graffiti station and a tattoo artist, as well as food and merchandise.
"I think an important part in all of my parties is to include people who are not limited to music," she says. "The recurring theme is to create an ecosystem where people can explore different avenues into Miami's arts and music community."
Promote collaboration, WVUM radio station will offer tickets on Thursday, September 23 at 7 p.m.
The term "IDM" (intelligent dance music) is generally used loosely and is often attributed to Warp Records via groups like Boards of Canada and Aphex Twin. However, over the years, Miami-based Schematic has spawned a delightfully eerie IDM scene in the Magic City. Although techno and house have taken over the scene, IDM has created something special.
"Miami is really known for Miami bass / retro, but there's also a huge IDM component that isn't really said that often," says Sosa-Toro. "It's a great place to throw a party just to like to put on something really weird and a moment to remember."
The Schematic Stage will cut the fat bass with ambient openings inside a storage container. It will – and rightly should – be weird.
Sosa-Toro could easily organize the event at Club Space and achieve the same goal. However, for her, site-specific locations are key.
"You do different things with different spaces," she says. "The warehouses and site-specific locations give me a blank canvas from design to programming with no ideology to cling to."
Sosa-Toro specifies that she only plays one role in the evenings. Everyone involved carries weight and the expansion of the party humiliates him.
"I think the only thing I'm presenting is saying to them, 'This is your chance to experience everyone at the same time and in the same place.' It's a cultural incubation of everything happening at the same time. "
Omnidisc x Allergy Season Rave. With Danny Daze, Physiotherapy, CCL, Pilo and others. 10 p.m. Friday, September 24, at the TBA location. Tickets cost $ 10 to $ 40 via ra.co.