VAVO presents a powerful new release "Weekends" with musician Tyler Mann. VAVO has released some awesome new music through longtime collaborating label KESS Records, including popular tracks like "Highs & Lows" and "Why Do I?" with nicopop.
VAVO is a DJ duo that is characterized by their sound and style that have earned them a reference name in the Dance Pop and Dance House scenes. They have reached important milestones in their career; they charted #1 on the United States Dance Radio Chartand made appearances on Beatport graphics and Billboard Dance Boards as well. The duo have garnered millions of plays for their music on major streaming platforms, so it's no surprise that this new release aims to continue their heritage and name in the world of electronic dance music.
Tyler Man is a frequent collaborator with the DJ duo and the record label. The artist was featured in the track 'Pieces' produced by VAVOand in songs like 'broken love' by TWIIG and 'get mine' by TWINSICKboth also published via KESS recordings. Tyler Mann has made a name for himself in the dance music scene, with stunning vocal performances that go hand in hand with the gripping musical productions he has been a part of.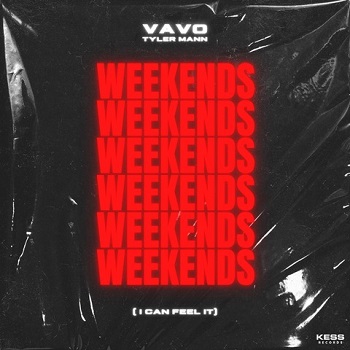 In 'weekends', voices processed by Tyler Man take center stage; a dynamic house-like beat and high-pass filtered claps bring the beat to a high energy level, all of which is surrounded by a nice round and energetic bassline.
An intense rise drops the track over a bouncy bassline progression and beat that takes the listener to a beachside rave party. Waves of stunning synths hit at certain points in the track and sustain the feel-good vibe, while the claps and shakers add that high-end rhythmic element that keeps things dynamic and not monotonous.
Layers of echoing vocals and adlibs, make a perfect match for this production, thanks to the gripping performance provided by Tyler Man.
This exceptional collaboration shows that she has everything she needs to become an instant success and continue to put VAVO and Tyler Man on the list of artists to follow, as well as KESS Folders as a label that continues to amaze, setting its own high quality bar for upcoming productions.
Listen to the track HERE!